[ad_1]

Left Arm Pacers are a rare commodity in India. They are not readily available. Ashish Nehra coincidentally happens to be one of the greatest fast bowlers produced by India. But why am I talking so highly about a player who generally remained injured throughout his career and delivered only a few times? Was Ashish Nehra so good? Nehra and Zaheer Khan were two names that ruled Indian fast bowling in the mid and late 2000s. Ashish didn't play many test matches as well. So, what made Ashish different, and what makes him great? Here is an in-depth look: 
Ashish Nehra Played Through Injuries in his Career: 
Former India captain Sourav Ganguly said that Ashish Nehra's pain-bearing ability is his biggest strength. And to add to it, his mentality to make a stronger comeback. Nehra was a character who wanted to play and win games for the country. These words of Ganguly in an interview with Gaurav Kapur describe what a match-winner Ashish Nehra was! He wasn't afraid of losing and this is exactly what was shown on the pitch. Nehra did not play many games, but in the games, he played, he was the most impactful bowler. Ashish Nehra has had 12 surgeries throughout his career!  
Even in the semifinal against Pakistan in the 2011 ICC ODI World Cup, Ashish bowled a match-winning spell, and later he was forced out of the final with a strained back!
Ashish Nehra and the 2003 World Cup Match Against England: 
Nehra is a strong contender for one of the longest careers as a fast bowler. He started back in 1999 and ended his career in 2017! Generally, fast bowlers and their peak last for 3 to 4 years, but Ashish effectively played at the national level for 18 long years.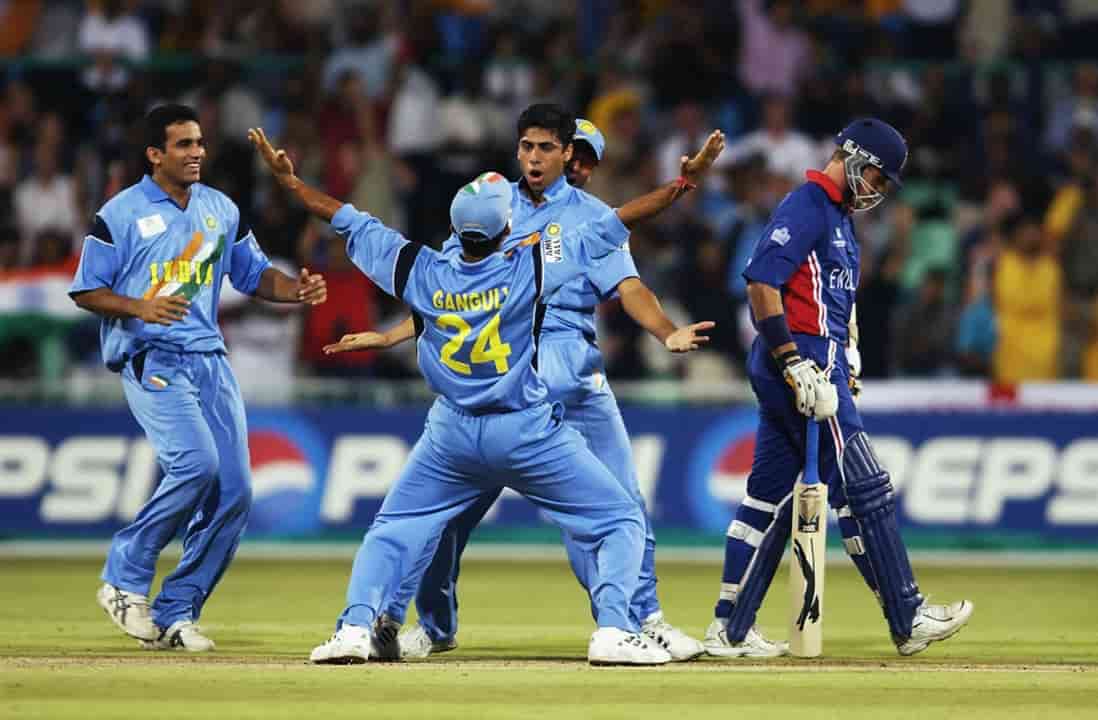 One of the best anecdotes is of the 2003 World Cup game between India and England. Before the match day, Ashish Nehra's foot was swollen. It had swollen to twice the size because he twisted his ankle while doing a fielding drill. Later in the evening when Ganguly approached Nehra and asked, "Aashu Kal Khelega?". Nehra smiled and replied," Haan bas physio ko bolo mere Saath rahe!" And what Nehra did on that day was absolute carnage. He picked 6 wickets giving only 23 runs in his spell. In his last few overs, he was so tired that he was taken off the pitch. He single-handedly won the game for India.  
Nehra's Jolly Attitude, Game Sense, and Love for the Game: 
If you ask any Indian cricketer from the 2000s, who is one of the most "chill" guys in the dressing room? Their generic answer would be Ashish Nehra. Ashish Nehra, while coaching the Gujarat Titans said, we follow the strategy, "Khavanu, Pivanu, Cricket Ramvanu, Majja Karvanu." This basically means enjoy your drinks, and your food, play the sport you love the most, and have fun! But does this mean Nehraji is all about just having fun? No, definitely not!  
In one of his stints as an analyst and commentator with Star TV Network, Nehra shined with flying colors. His knowledge of the game and game sense was unmatched. People talk about T20 special players, Nehra was an exclusive analyst for the T20 game. His approach to the 20-over format is one of the most daring, yet impressive ones. And maybe because of the same attitude he had a successful T20 career for India as well.  
To know more read at ICC: Is ICC Really Ignorant About Scheduling? Do ODIs Lack Relevance? Are Players Actually Fatigued?
Read more such articles at Dinesh Karthik: Will He Play the ICC T20 World Cup 2022?
Read more at the official website of the BCCI.
[ad_2]

Source link